Best Software partner ECEMS Awards, Ghana
Saturday, April 30th, 2022 – Menthane Consult has been awarded the Organization with Best and Most Creative honorary award for the year 2022 at Ghana's ECEMS Classics Award. Menthane also received the honorary awards for its founders for their contribution to the award scheme over the years, becoming the first software company in Ghana to have received recognition at this event.
Organised by ECEMS Ghana, Classic Awards is an annual one-day event that brings bloggers from all over Ghana together to celebrate the emergence of creativity in Africa, and its potential for driving social change, good governance and education in Africa.
The citation read as below
"Classic Awards UPSA is an initiative by Exclusively Classic Events and Media Services (ECEMS) in
collaboration with the University of Professional Studies Accra Students' Representative Council (UPSA
SRC). The awards initiative has the sole aim of Empowering Students To Change Their World. Also, it
focuses on inspiring students to discover their talents and pursue excellence in all endeavors. This
initiative started in 2018 and 2022 is the fifth edition.
Menthane Consult has proved itself as the best software(mobile apps, website and graphic designer company in Ghana). ECEMS pride itself in Ghana, Africa.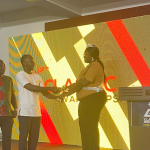 This special initiative has over the years honored influential Ghanaians contributing their quota to
students' development such as Dr. Daniel Mckorley (CEO, McDan Shipping), Selorm Adadevoh (CEO
MTN Ghana), Dr. Matthew Opoku Prempeh (Former Minister Of Education) and Kurt Simeon Edwin
Okraku (President, Ghana Football Association).
You have demonstrated professionalism and excellence in your role as the director for Methane Consult
You organization played an instrumental role in developing an online portal for ECEMS Ghana. We know
about your passion for helping people especially the youth and students. It is because of this and many
more that we are delighted to honour you, your well known and established personality this award. You
deserve this honour."
Menthane Consult is poised as the premier mobile app developer and best website design company in Ghana, Africa to bring you the best in graphic design, mobile apps and software built for all industries.
We want to power the best companies with the best solutions. Click this link to gain access to our service offering